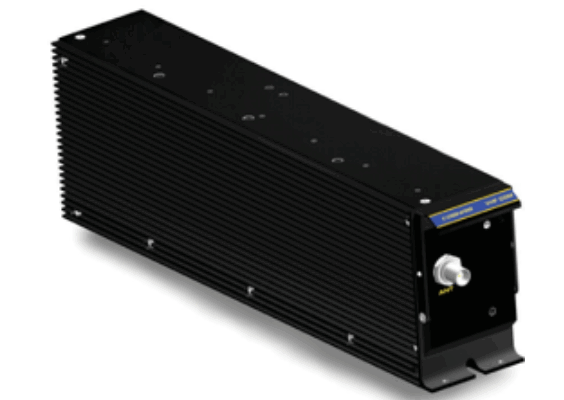 Canyon's CVC-151 VHF COM Transceiver
More than 40% weight and space savings over Series III radio
Drop in replacement for Series III radios (adaptor bracket required)
Built-in SELCAL and ACARS capability
Multiple lighting curve options
Increased system self-test and BIT
ARINC 429 Digital Data Bus
Continuous transmit capability (at reduced power)
8.33 and/or 25 kHz channel spacing
Canyon's FliteLine™ VHF communication system is an all digital VHF transceiver built and designed to ARINC Air Transport specifications. The CVC-151 VHF transceiver is designed to meet the latest ATC environment and all future CNS ATN requirements. The CVC-151 is upgradeable to VDL Mode 2. The FliteLine communication system features a 20 watt solid-state transmitter and is compliant with 25 kHz or 8.33 kHz spacing. The CVC-151 transceiver can be tuned via ARINC 429 bus using an individual CVN-252 Nav Control Display, the CCN- 955 Com/Nav Control Display, FMS, the Universal Avionics RCU, or the Series III RMS 555 Radio Management System.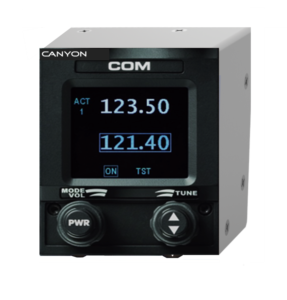 Canyon AeroConnect CVC-152 FliteLine™ COM/NAV Control Display
8.33 - 25 kHz tuning, selectable
118.000 -136.975 MHz standard frequency range
118.000- 151.975 MHz extended frequency range
LCD color display
NVG compatible
FliteLine control display
Series III replacement display, no wiring changes
Supports Collins - Gables 2 x 5 tuning interface
FAA TSO-C113 / EASA ETSO-C113
Canyon's Unique color LCD display capable of 8.33 or 25 kHz selection, active & standby frequencies along with NVG option. Displays command auto-tune frequencies.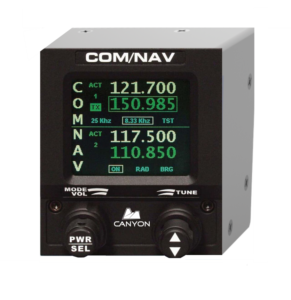 Canyon AeroConnect CCN-955 FliteLine™ COM/NAV Control Display
Multi-function provides both VHF Com & Nav tuning capability
Saves 50% panel space compared to separate control displays
Minimizes installation costs vs separate controls
Weight savings vs separate displays
LCD color display
NVG compatible
FliteLine Control Display
Series III replacement, no wiring changes
Supports Collins - Gables 2x5 tuning interface
FAA TSO-C113 / EASA ETSO-C113
Canyon's color LCD utilizes unique technology, combining Nav & Com tuning functions. This results in a 50% panel space savings along with the realized weight reduction. NVG option available
Technical Specifications:
Power Requirements (Lighting):  5.0 Vac, 5.0 Vdc & 28 Vdc
Power Consumption:                      280 mA max.
Bezel Colours:                                  Black & gray
Weight:                                               0.77 lbs. (0.35 kg)
Width:                                                 2.50 in. (63.5 mm)
Height:                                               3.15 in. (80.01 mm)
Length:                                              4.29 in. (108.97 mm) including connector
Altitude:                                             55,000 feet (16,764 m)
Temperature:                                   -4°F to +158°F (-20°C to + 55°C)
Downloads, Documents & Videos